Student Awards 2010-11
Acadia University wins the Student Prize for Economic Policy!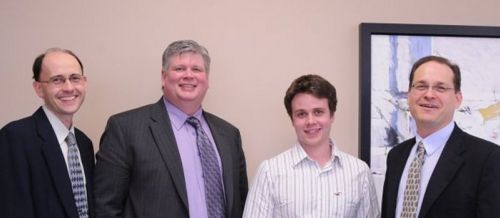 Student Prize: L-R David Chaundy (VP AAAE); Tim Smith (University of New Brunswick); Nicholas Broz (Acadia University); David Amirault (AAAE President);
March 14, 2011
Acadia University student Nicholas Broz captured first place in a recent Atlantic Association of Applied Economists (AAAE) student competition. His investigation of Canada's real estate markets suggests the potential for a housing bubble burst in Canada, similar to that of the United States in 2008 and its subsequent financial crisis.
"Housing markets play an important role in the economy due to its relation to the financial markets through mortgages. The growth of housing prices is used for evaluating the potential risk of over-valuation, commonly referred to as a housing bubble," explains Burc Kayahan, an economics professor at Acadia. "The bursting of housing bubbles has a negative effect on the level and growth rate of economic activity."
He adds, "Nick's interest in this topic is mainly driven by the recent housing market crisis in the USA and its impact on the global economy. The combination of Nick's analytical ability and his hard work resulted in him claiming the first prize in this prestigious competition."
The fourth-year honours economics and math student from Fredericton, NB, studied the housing markets in Halifax, Montreal, Ottawa, Toronto, Calgary, and Vancouver, with an emphasis on the Halifax market as a proxy for Atlantic Canada.
"In my third year at Acadia, we studied the American housing bubble and all of the damaging consequences in a financial institutions class," says Broz. "When I was choosing my honours thesis topic, the possibility of studying the potential for a similar problem in Canada excited me and I jumped on the opportunity. Before Christmas study break I heard about the AAAE competition and I thought it would be a great opportunity to showcase my research and to represent Acadia and its economics department in an Atlantic regional competition."
His investigation reviewed data on house sale prices, average rents, after-tax household incomes, and lending rates to determine whether current housing price growth rates are consistent with a stable equilibrium.
Broz compared the cost of owning a home to that of renting accommodations over a one-year period to determine whether prices should be trending up or down. He found that Halifax markets have seen high growth rates push down the homeownership costs to the point that renting is never a feasible option. Because that level of growth is not sustainable, his research indicates that prices will have to fall, or at the very least show a reduction in growth rate.
As one of three students in Atlantic Canada invited to present his economic policy to the AAAE, Broz delivered a 12-minute presentation and five-minute question and answer segment to capture his $750 cash award.